Written by: Kazuki Kintama on August 23, 2012 at 12:22 am | In
Erotic Japan Blog
|
Discuss »
Another one bites the dust. Yuko Sugamoto from HKT48, the Fukuoka spin-off of AKB48, has announced she is quitting. It is an open secret that this is due to her management finding out about a "relationship" she had, including possibly drinking and smoking with a fan.
However, the official line is that all she did was exchange email addresses and answer a mail… which hardly seems taboo-breaking to us.
Japanese girls are just not allowed to have relationships if they are in an idol group. Heaven forbid that reality infringe on the "pure" fantasy that their management have crafted so carefully.
These girls don't get warnings. It's a one-strike-and-you're-out rule in the fascist world of AKS-led pop "music".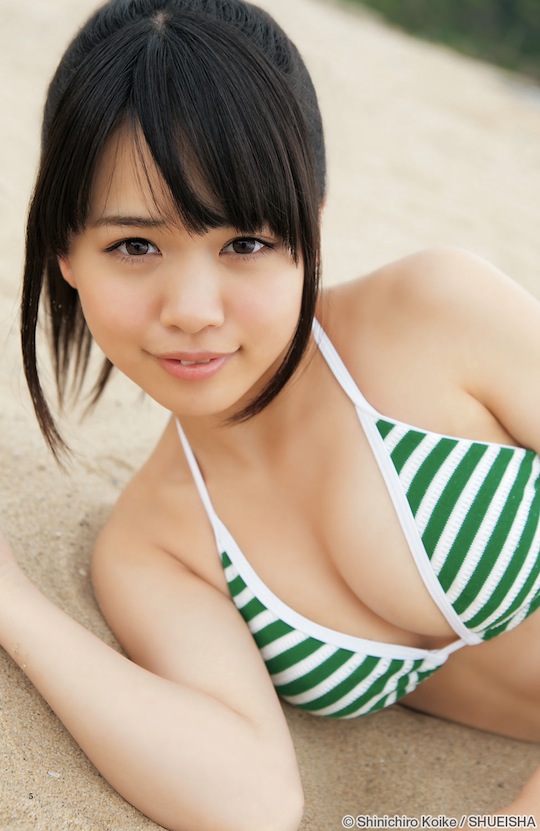 Yuko was one of the most popular members of the Kyushu group — now of course, joined by another exiled and disgraced member of AKB — and famed for her generous bust. The appeal of the group is going to be seriously lessened.
We always wonder what these girls think about when they join these groups, signing up their soul to their management, while the latter rake in all the money (the singers are salaried) and prevent them from having any private life. They get to pose for soft porn shoots targeting the handjob fantasies of the fans and appear in TV campaigns for any brand their management chooses, while any semblance of personal freedom (let alone, shock horror, artistic control) is denied to them.
Along with Yuko (18), another four members of HKT48 are also leaving: Airi Taniguchi (13), Sayaka Eto (14), Yui Komori (14), and Ayaka Nakanishi (16)… though we aren't sure why. The term "graduation" is still being used with all its euphemism but we reckon these girls were sacked or said they want to leave to have a real life. Good for you, girls! Get out while you still can.
And good on Yuko too for being a bit cheeky and uploading a YouTube video hinting at the real reasons for her resignation. She denies sleeping with the fan and says she is upset about the rumours online that she met him and went drinking and smoking with him.
Unfortunately the video was swiftly deleted but hopefully will resurface…
*Update*: Some generous soul has put the video back up. Not sure how long it will stay up but here it is for now (Japanese only). Rather sweet.
Tags: AKB48, HKT48
Category: Erotic Japan Blog
Other categories: Hands-on Reports, Product Releases
No Comments yet »
RSS feed for comments on this post. TrackBack URI
Leave a comment
Presented by Tokyo Kinky