Written by: Megumi on March 31, 2010 at 3:27 am | In
Product Releases
|
Discuss (1) »
Our sponsors Kanojo Toys recently sent me a great sample product to test out and I just had to share my impressions with you all.
When me and my hubbies are getting down and dirty, I sometimes like to get in the mood with a blast of finger foreplay down you-know-where. Well, fingers and hands get tired, and keeping up the same speed and tenacity can be a real test on the patience of a man eager to get his own rocks off.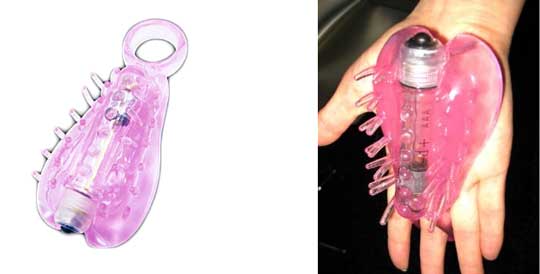 So I was overjoyed to be sent the Vibrator Pleasure Palm, a wickedly shaped vibe that goes on your hand.
Notice the ring that you put round the finger, leaving it free to explore the inside of the vagina. Meanwhile those rows of "whiskers" and bumps stimulate the outside zones. Because it's not just the inside that's important, right?!
I tried this out on myself last night and was whirred away into a place far above the clouds…phew, took me some time to float back down to earth.
When Taro gets home from work today the first thing I'm gonna do is slide this baby onto his hand and make him crank me up! If he's lucky I'll service his own needs afterward…

Tags: Vibrators
Category: Product Releases
Other categories: Erotic Japan Blog, Hands-on Reports
1 Comment »
RSS feed for comments on this post. TrackBack URI
[...] should Megumi have all the fun? I was pretty peeved that our sponsors Kanojo Toys last week sent her samples so I called them up to complain. Luckily they're an accommodating bunch and were happy to [...]

Pingback by Tokyo Kinky » Inflatable Acrobatic M Spread Legs for onaholes — April 6, 2010 #
Leave a comment
Presented by Tokyo Kinky