Written by: Tadashi Anahori on July 5, 2012 at 11:35 pm | In
Product Releases
|
Discuss »
Japanese porn is full of surprises.
From old people porn to public toilet bondage, hentai and homelessness.
In the same way that a westerner looks at an "oriental" Japanese and thinks he or she is attractive, of course, the same thing applies the other way too.
Hence the proliferates of haafu models, celebrities and actors — and also in the porn world.
The most famous would be Maria Ozawa, who is half French Canadian. But there is also the half-Brazilian goddess who goes by the simple name, Sarah.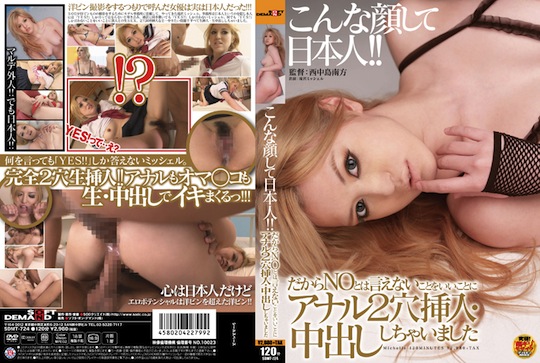 Now comes a new starlet, Michelle Takizawa, and in her latest title she is playing up her "foreign" looks (or is that, locks?) to the extreme, a coy, all-but-Japanese attitude of a girl willing to do anything for the men — only with startling blond hair.

Such a Face, a Japanese! is of course created by SOD, the biggest local porn maker.

Michelle really goes the full hog to prove her ethnic credentials, even putting on a schoolgirl uniform and engaging in some sexy cosplay action — not to mention handling two guys at once!

Tags: Haafu, Japanese pornography, JAV
Category: Product Releases
Other categories: Erotic Japan Blog, Hands-on Reports
No Comments yet »
RSS feed for comments on this post. TrackBack URI
Leave a comment
Presented by Tokyo Kinky