Written by: Tadashi Anahori on October 14, 2009 at 3:18 am | In
Product Releases
|
Discuss (2) »
Who says romance is dead?
People are always telling me to get a girlfriend. But I just tell them there's something much better than that. She's soft. She's cute. She looks and feels real, and she doesn't complain. Meet CandyGirl Jewel Rosa F.
And unlike in real life, this girl is customizable. Don't accept second best: choose your favorite face, hair style, body and bust type. And just wait till you touch this gal's smooth silicone skin.
Check out the optional accessories too: there's a hairless body hole, lotion and health care products. Give this girl the TLC she deserves.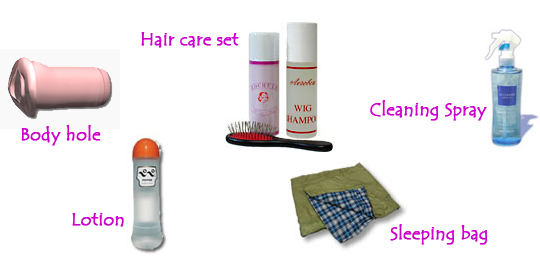 Well, she's here just waiting for you to pick her up. Buy her online through the Kanojo Toys Shop.

Tags: candy girl, sex doll
Category: Product Releases
Other categories: Erotic Japan Blog, Hands-on Reports
2 Comments »
RSS feed for comments on this post. TrackBack URI
[...] is a new series from Orient Industries who, long-time readers will recall, are responsible for the Candy Girl et [...]

Pingback by Tokyo Kinky » Anime love doll for your manga fantasies — May 25, 2010 #

[...] is a new series from Orient Industries who, long-time readers will recall, are responsible for the Candy Girl et [...]

Pingback by Anime love doll for your manga fantasies | Best Of Love Dolls — July 28, 2011 #
Leave a comment
Presented by Tokyo Kinky