Written by: Megumi on April 24, 2012 at 12:45 am | In
Product Releases
|
Discuss »
It's about time us ladies got more of attention from the big adult goods makers! SOD has jumped into this gap in the local market and is fast establishing itself as the best sex toys brand for women — after conquering the male market first, of course!
One of their latest additions to their girls' toys is this subtle Feminine Exercise, part Kegel exercise instrument to help ward off the perils of old age (weak bladders etc) and, more seriously, a great way to explore your inner body with a safe, fun toy.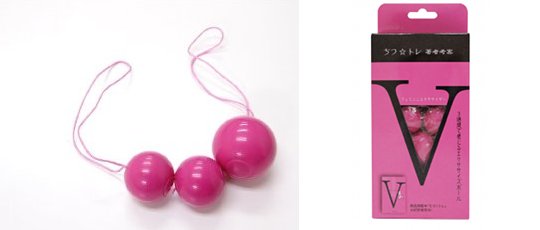 They go by many names, these kinds of toys — Ben Wa balls, geisha balls, vagina balls — and this version has three pink balls to insert inside your you-know-what and practice getting yourself turned on, and on, and on…
If I'm honest, it was my first time to try out one of these kinds of female adult toys, having a wealth of experience with lots of vibes, lubes and so on. I appreciated the way having three balls — in two sizes — allowed you to test out which felt better, and how clenching and squeezing the balls gave new physical sensations deep inside my body.

Tags: japanese sex toys
Category: Product Releases
Other categories: Erotic Japan Blog, Hands-on Reports
No Comments yet »
RSS feed for comments on this post. TrackBack URI
Leave a comment
Presented by Tokyo Kinky