English teacher arrested (again) for molesting school girls
Don't you just love north Japan? There must be something in the snow…
A teacher in Akita (that's a prefecture way up at the tip of Honshu) was re-arrested on June 17th for child prostitution and possession of pornography!
Junchiro Konishi (36) is an English teacher at a middle school in Akita City. Apparently in March last year he paid cash to two (then aged) 14 year-old school girls and molested them in a hotel in Akita. Of course, this being the modern age he also took footage of this with a digital camera (good way to provide the police with evidence, duh).
How much did this venture cost him. He has testified that "I gave each girl 12,000 yen". So, about $120? Sound like good value for a school girl?
Kind of amazingly, Konishi was arrested in May for a separate incident with a school gir last February. Sounds like he did a good job covering his tracks for so long!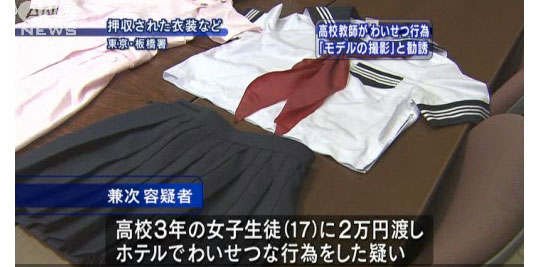 This follows the arrest in Tokyo of a 47-year old high school teacher who told a third year high school student that he wanted to take pictures of her in a swimming costume. He paid her 20,000 yen (about $220) and did rather more than just take photos, it seems.
However, Hirotoshi Kenji "recruited" his model through an internet bulletin board and she was keen to do the shoot. Apparently she wasn't clear on the implications!
To be honest, guys, rather than taking the risk of running foul of the law, whenever I get these school girl urges I just look at pictures of Ryo Shihono.