Written by: Megumi on June 28, 2010 at 2:08 am | In
Erotic Japan Blog
|
Discuss (1) »
Famous pink movie theater Ueno Okura Gekijou is to shut its doors in August, bringing to an end fifty-nine years of sex history. A new unrestricted cinema will be built in front of the old building…
Okura first appeared in north-east Tokyo in 1951 and started showing pink movies from 1962. Despite its age it still attracts many old fans to its weekly three-movie schedules, with some 2000 visitors per week.
However, since the last decades saw the rise of video and then DVD, the pink movie theaters, once a staple of Japan's sex industry. There were some 300 theaters at its peak but now there are said to be just 70-80.
Still, foreign visitors are often amused by how central these are. For example, in the very heart of Kyoto's shopping district there is a sex cinema and also in Namba, Osaka. However, they are more often than not in the poorer areas of town, such as Ueno or in Osaka's Nishinari district (also home to lots of old-style, very very open brothels).
Of course, part of the appeal of the places was that you could go there and get away from your family. Small Tokyo apartments don't allow you much space to look at porn in private. However, the video booths and internet cafes soon filled that need — and the porno cinemas have been struggling ever since.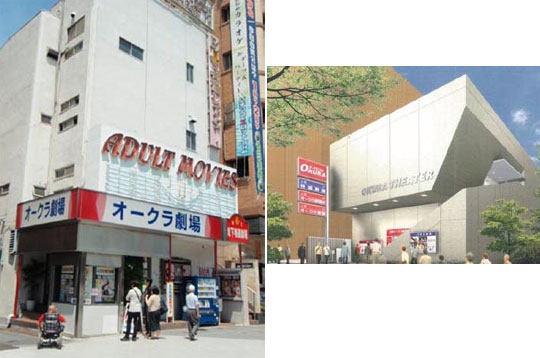 [Pic source]
Okura's fans kept it open for this long but times are changing. Now the owners want to improve its whole image and capture new customers. Cleaner, smarter and safer, the new building will have wheelchair access and headphones for the hard-of-hearing. It will also expand to three screens and be able to seat 250 patrons.
More interestingly for me, the new cinema is really trying to be "modern": they are going to have ladies' day offers to encourage females to enjoy porn. Well, I don't need any encouragement!

Tags: Japanese pornography, JAV, Pink Eiga
Category: Erotic Japan Blog
Other categories: Hands-on Reports, Product Releases
1 Comment »
RSS feed for comments on this post. TrackBack URI
[...] back in June when Megumi blogged about the pink movie theater Okura in Ueno that was closing down (to re-open as a "modern" porn cinema, including for women [...]

Pingback by Tokyo Kinky » Tokyo pink Ueno Okura theater closes doors — August 13, 2010 #
Leave a comment
Presented by Tokyo Kinky