Written by: Tadashi Anahori on April 22, 2010 at 8:12 am | In
Erotic Japan Blog
|
Discuss (7) »
Any self-respecting otaku or anime-lover will have heard of Konami's Love Plus.
It's a virtual dating SIM game for the DS. Players can choose one of three girls (Aika Takamine, Rinko Kobayakawa and Nene Anegasaki) and pursue a full relationship with them. You can speak to them through the DS's microphone and even the touch-pad allows for some interaction.
It is even possible to sit down and communicate with other nearby DS players using the game through the wireless connection function.
Well, now there's a iPhone and iPod app version.
This is even better than the DS version since you can take photos of yourself with your iPhone camera and use augmented reality to insert the SIM's image into the photo.
If you've ever wanted to have that romantic — or sexy — photo of yourself getting close to your favorite anime girl…then this is the app for you.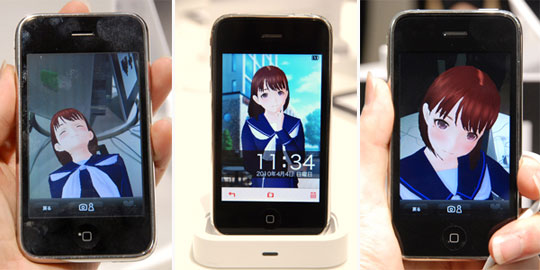 Apparently you can use the touch screen to control the girl — and even her clothes! We suspect that you will like flipping up her skirt the most!
I was first motivated to get an iPhone when I heard about the anime girl Kanojo Camera app and, boy, am I glad I made that purchase now…

[Images via ITmedia.co.jp]
Tags: anime, iPhone app, otaku, SIM, Virtual dating
Category: Erotic Japan Blog
Other categories: Hands-on Reports, Product Releases
7 Comments »
RSS feed for comments on this post. TrackBack URI
Leave a comment
Presented by Tokyo Kinky