BBC reporter investigating schoolgirl sexual exploitation in Japan held by police
A journalist working on a BBC Three documentary about child sexual exploitation was held in police custody.
The 29-year-old Stacey Dooley was held by police in Tokyo for two hours during the making of her documentary, Young Sex For Sale In Japan.
"It [the doc] focuses on the fact they only made it illegal to possess child pornography in 2014," said Dooley. "We set out to try and understand why it took a privileged country, like Japan, so long to come to this conclusion. Also to see if the change in their law had made any real difference on the ground."
Dooley and her team were apparently confronted by two men on so-called JK Alley in Akihabara who demanded they stop filming. (JK Alley is meant to be a popular place where men can go to hire schoolgirls.) It is possible they were members of the yakuza involved in JK business or just independent pimps of some kind.
Soon the police arrived and eventually took Dooley into custody, though it is unclear if she was formally arrested. In which case, theoretically she could have left at any time.
"So I've just been kept by the police for the past two hours. They held us against our will, they would not let us go," Dooley explained to camera after the ordeal.
The documentary, broadcast on BBC Three on February 28th, is the latest in a line of films and stories made by overseas media in this topic. Perhaps most prominently, Vice News reported on "schoolgirls for sale" in 2015.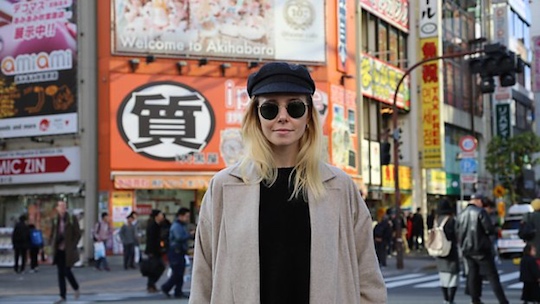 We haven't seen the film but it seems that the decision, cited by Dooley, to make possessing child pornography in 2014 is only tangentially related to the issue of JK business.
Here is how the BBC presents the film:
Japan is seen to have a serious problem with the sexualisation of children. From bars where men pay to meet schoolgirls to suggestive pictures of very young children and comic books featuring child rape, the country has faced global criticism for its attitudes. It was only three years ago that possessing genuine child pornography was finally made illegal.

Stacey Dooley, one of BBC Three's most popular documentary-makers fronts another powerful, hard-hitting investigation when she travels to Tokyo, Japan to look into what effect the law banning child porn has had and to see if the attitude towards the sexualisation of children has changed.

Stacey discovers a culture where sexual images of young girls are widespread and used for commercial gain. Her first stop is a legal Tokyo JK café in which high-school aged girls are paid to provide company to older men — who tell her that it is perfectly normal to talk about sex and hold hands with girls as young as 15 dressed in school uniform.

Stacey uncovers an even more disturbing legal grey area exists in Japan called Chako Ero where children as young as six are filmed or photographed in erotic clothing. She speaks to a producer of these films as well as a self-confessed paedophile to try and discover just why some Japanese culture seems to encourage inappropriate exploitation and sexualisation of children.

Following the law change, the documentary examines what else Japan is doing to stop normalising the sexualisation of children. Stacey meets volunteers from a charity trying to help vulnerable girls, as well as the Head of the Juvenile Section at the National Police to find what they are doing to protect young girls. Despite their efforts it seems that Japan, one of the richest countries in the world, is light years behind in its attitude to children compared to other G7 countries.
As we blogged earlier this month, the JK "schoolgirl rental" industry is under threat from proposed government legislation.