Written by: Tadashi Anahori on April 9, 2012 at 12:13 am | In
Erotic Japan Blog
|
Discuss (2) »
We've talked before about Edo era Tokyo sex shops. Well, the locals also had their own sex dolls as well, called Azumagata Ningyo (吾妻形人形).
After purchasing your "dutch wife" from Yotsumeya, you took the Tenga of its day back home for some fun. It was a crude device, something like a picture school, covered with a bundle of clothing, but made from Tortoiseshell material and so could be heated up with hot water for the natural touch. The piece de resistance was surely the "onahole", in this case a leather pouch.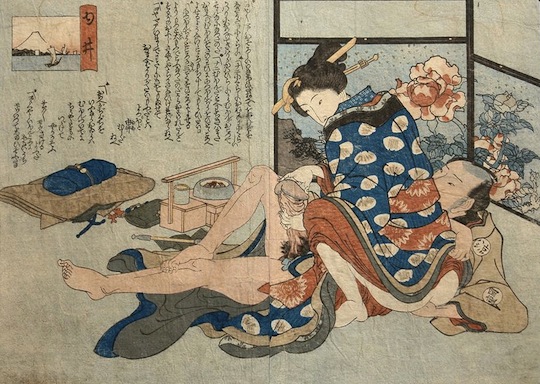 We should point out that there seems to be no serious historical evidence for Azumagata Ningyo, as far as we can tell, though it apparently is mentioned in eighteenth century texts and was at some point painted by the great print artist Hokkusai. It might be a bit of an urban myth — but knowing the reputation for Edo as a pleasure capital, we doubt it!
There are said to have been other contemporary sex dolls, such as the Zuiki and Harikata, which were dildos for women. There was also a preference for using cucumbers or konnyaku as masturbators. Those with money could get their hands (and more) on the more up-market "Chasen", made of leather.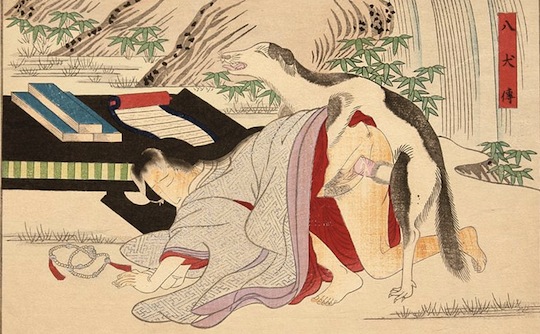 Tags: history, sex doll
Category: Erotic Japan Blog
Other categories: Hands-on Reports, Product Releases
2 Comments »
RSS feed for comments on this post. TrackBack URI
[...] Japanese people like to use cushions when they feel lonely, even in historical times. [...]

Pingback by Tokyo Kinky – Sex and Erotic in Japan » Feeling lonely? Hug this cushion with a heartbeat! — May 10, 2012 #

[...] dildos to cock rings and lubes, they even had their own version of sex shops, as well as the Azuma Ningyo, a sex [...]

Pingback by Tokyo Kinky – Sex and Erotic in Japan » Traditional Japanese sex toys still work for modern man! — April 16, 2013 #
Leave a comment
Presented by Tokyo Kinky