Written by: Tadashi Anahori on March 5, 2012 at 12:11 am | In
Erotic Japan Blog
|
Discuss (3) »
This is a controversial topic among the TokyoKinky blogging team. Just are the minions of AKB48 (let alone their copycat groups) even good-looking?
Taro and I have been definitely in the "no" camp, while Megumi sat on the fence ("They are kinda ordinary, sometimes cute, but clearly would be terrible in bed), versus Kazuki in the "yes" camp.
But then we saw these very nice pictures of Haruna Kojima looking almost like an adult and, though flat-chested as hell despite the best efforts of a push-up bra, also quite attractive and sexy. We are not so naive as to discount the skills here of Photoshop but we think she certainly has some natural beauty that outstrips (excuse the pun) of all the other main ladies from the nauseatingly ubiquitous group.
Have a gander yourselves!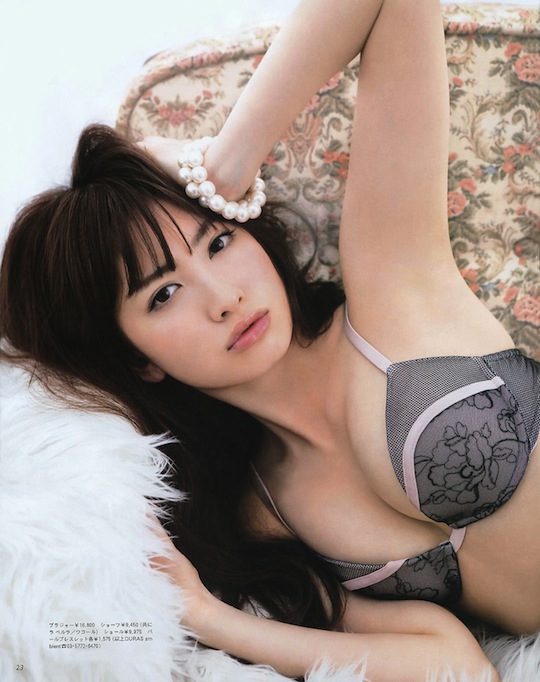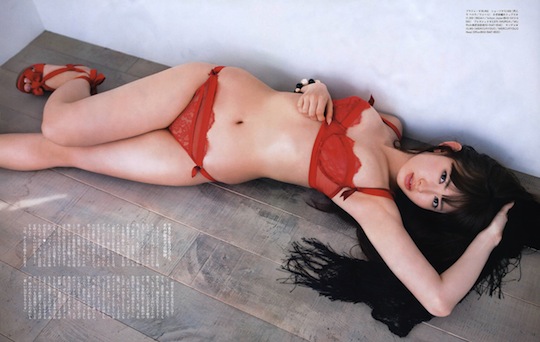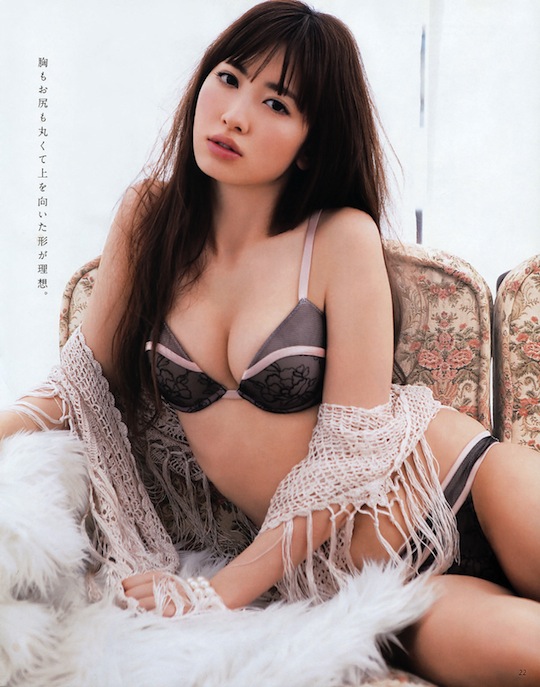 However, we still very, very much think that, say, Tomomi Itano is not only nothing special, but that she is decidedly UN-attractive. Jesus, look at her pout and yaeba fang teeth! Yikes!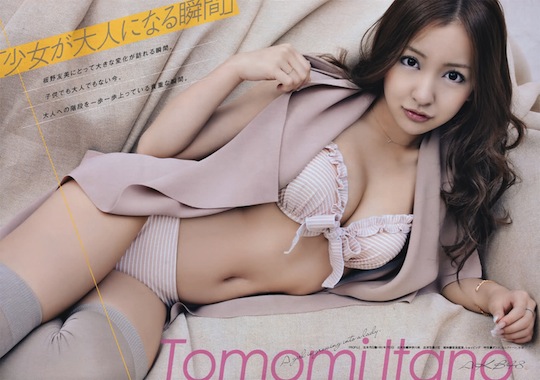 Tags: AKB48, Haruna Kojima
Category: Erotic Japan Blog
Other categories: Hands-on Reports, Product Releases
3 Comments »
RSS feed for comments on this post. TrackBack URI
[...] Such occasions have the rare honor of being one of the rare times that Tadashi has found Haruna Kojima sexy. [...]

Pingback by Tokyo Kinky – Sex and Erotic in Japan » Japanese Women's Fashion Magazines the place to see nude models — June 6, 2012 #

[...] strange has happened. Despite having said that AKB48 just had no genuinely sexy members — except, perhaps, at a push Haruna Kojima — I've been changing my mind recently [...]

Pingback by Tokyo Kinky – Sex and Erotic in Japan » Rie Kitahara is the hottest member of AKB48 — August 17, 2012 #

[...] 2013 at 12:43 am | In Erotic Japan Blog | Discuss » We've long been an advocate that Haruna Kojima is one of the very few girls in the AKB48 millions who is genuinely attractive (along with the [...]

Pingback by Tokyo Kinky – Sex and Erotic in Japan » AKB48 Haruna Kojima strips off to be Peach John lingerie's "new sexiest star" — February 21, 2013 #
Leave a comment
Presented by Tokyo Kinky