Did alleged affair with Jun Matsumoto finish career of AV porn star Tsukasa Aoi?
It's an open secret that Arashi idol group Jun Matsumoto is dating actress Mao Inoue, though their respective agencies prevent them from getting married.
But that's not all. Matsumoto is also alleged to have had an affair for several years with someone else — none other than porn star Tsukasa Aoi.
The scandal was exposed by a tabloid at the end of last year after Aoi was spotted entering and leaving Matsumoto's apartment building.
Matsumoto apparently treated Aoi as his "sex slave". Inoue also stopped working for a while, possibly related to the scandal.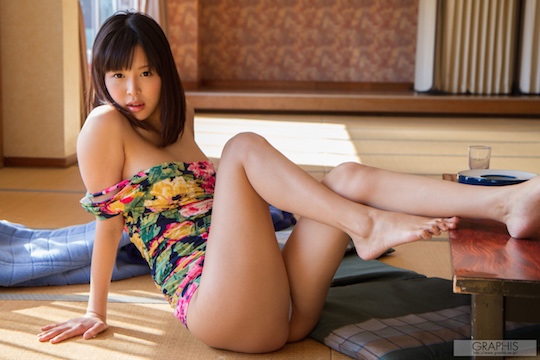 But Arashi is a powerhouse in the entertainment industry and its agency immensely influential. Tsukasa Aoi (26) has now effectively disappeared. Though she continues to release new AV titles, her website has been taken down, and her social media presence vanished. She has also stopped doing the monthly autograph events that were common ways for her fans to meet her.
Her agency posted a few final words on Twitter in July that hinted at her total retirement from porn.
It is very likely that Matsumoto's agency, Johnny's, has pressured her people to do this in order to protect their precious brand. Johnny's stars are always manufactured to appear clean-cut and "pure", and any tarnish on this is treated as a problem.
Not surprisingly, the geinokai and AV industries are both heavily linked to the Yakuza. When something bad happens or gets exposed in the media, they simply "bury" it as if it never happened.
Four years of sex with a top pop and entertainment star has now resulted in the end of Aoi's career. Let's hope she can find a way to fight back.