AKB48 Minami Minegishi shaves head in sex shame
Oh, god. Just when you think AKB48 couldn't get any lower. Then this happens.
Following rumors that she had — shock! — been on dates and slept at someone's place, minor AKB48 idol Minami Minegishi (20) has been demoted from active member to a "kenkyusei" (research student) position — one short of being sacked.
But she also made a bizarre tearful video apology with her head shaved as a sign of penance.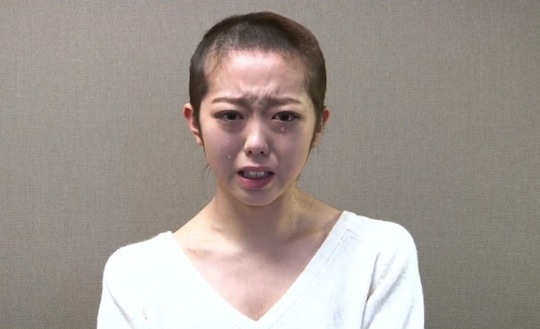 The painful video was uploaded last night and has at time of writing this already been viewed 1.6 million times.
This is so distasteful. Shaving someone's head is what locals did to women who slept with German army officers or Nazis in occupied countries in Europe after they were liberated. It's like Minami is being punished by being branded.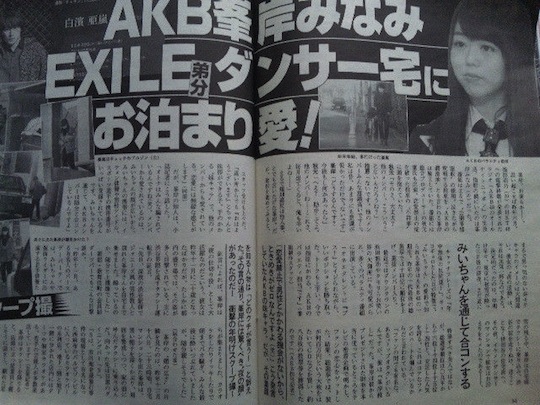 The reports that she had slept at a male friend's house came on January 31st in the Shukan Bunshun weekly tabloid, the same publication that also had the scoop on Atsuko Maeda's drunken night with a guy.
The man in question is a 19-year old dancer for a sub-groups of EXILE. He and Minami apparently spent the night together at his place in Setagaya.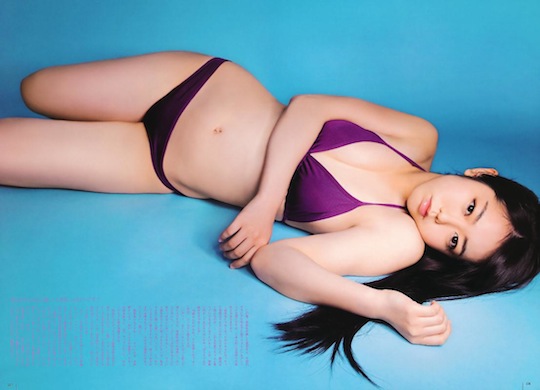 Minami, we will miss you. You didn't deserve to be treated like this by your management.
Apparently Minami must retain her hymen at all costs — but AKB48's commanders-in-chief are allowed to make photos with children holding onto the girls' breasts? If that's not hypocrisy, then I don't know what is!