Written by: Tadashi Anahori on August 28, 2012 at 11:22 pm | In
Erotic Japan Blog
|
Discuss (4) »
Just when you think Yasushi Akimoto and his minions cannot go any further… they do.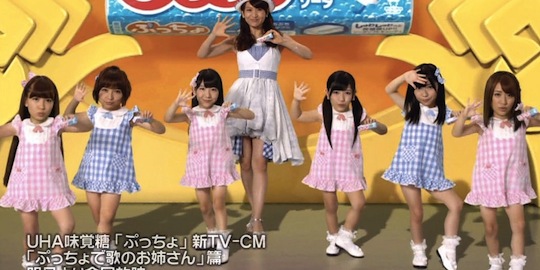 AKB48's latest sell-out, a TV commercial for Puccho, sees them dancing to the sounds of their own "music" as they eat the product being advertised. But, this being AKB, nothing is simple and everything is queasy.
The heads of the young girls are pasted in the Most Obvious Photoshopping of the Year Award-winning style onto the bodies of dancing children. Yes, children. This time there is no mistake.
We simply cannot fathom what ad agency chicanery came up with the concept that the juvenile-like AKB should made to appear even younger (how is this making the product look good?!), creating either a sort of Robocop-lookalike bizarre mutant image — or, depending on your taste, every pedophile or Lolicon fan's fantasy.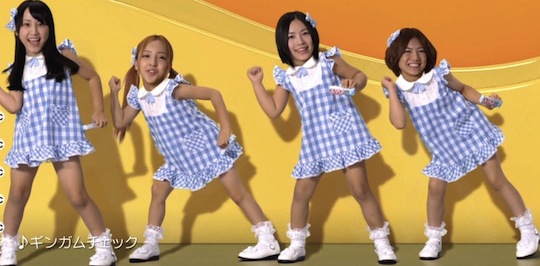 AKB are of course famously not a real band but a massive commercial machine designed by Akimoto to make money from otaku or otaku-leaning consumers through relentless spin-offs (propaganda films, sick TV commercials), mountains of merchandise and much-hyped events (hand-shaking, the "elections"). But when will they just go too far and land up in jail?
The reaction among even otaku on Twitter and elsewhere has been horror at the new lows. What can they possibly give us next?

Tags: AKB48, Lolicon, otaku
Category: Erotic Japan Blog
Other categories: Hands-on Reports, Product Releases
4 Comments »
RSS feed for comments on this post. TrackBack URI
Leave a comment
Presented by Tokyo Kinky