Written by: Tadashi Anahori on June 7, 2012 at 12:14 am | In
Erotic Japan Blog
|
Discuss (3) »
It was the last time that Atsuko Maeda would be appearing — though she wasn't actually "running" — and inevitable the latest AKB48 "general election" has been an insane blitz of publicity, with massive ads on TV (in collaboration with Google+) and on major websites.
It was shown live on TV for several hours and streamed online too. However, given how anemic viewing figures for AKB48-starring dramas and movies have been, and, compared to the advertising and hype, how, despite being touted as "top-sellers", the music sales have also been relatively modest (compared to market leaders, say, fifteen years ago), we reckon no one is actually making any money out of all this!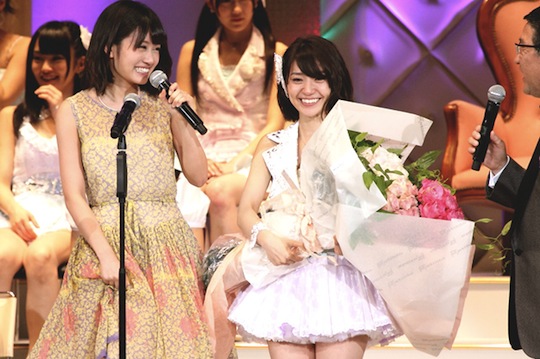 The fourth event itself, with its fevered mob, rock-paper-scissors games and awards ceremony, took place at the Nippon Budokan (yes, where the Beatles played) in central Tokyo, and the highest number of votes were achieved so far, a record 13,804,122!
Only one girl (Yuko Oshima) got over 100,000 votes, with the rest spread out over the other 30 contestants. The winners of course become the headline singers in the next single release. Yuko came first by a reasonable margin, while second place was claimed by Mayu Watanabe and third by Yuki Kashiwagi. Much-hyped ladies Haruna Kojima only came sixth, while Tomomi Itano a meagre seveth!
We often say this but, other than some guys who think a few of the girls are cute, we have yet to ever meet anyone who actually likes the music — enough to buy it — or who would choose the over-kawaiified girls over a more straightforwardly sexy idol.
Anyway, we were much more interested in the bizarre but not surprising news that at least one fan had purchased 1,770 votes for the election! So we start to see the truth behind the "record" numbers and the large sales of the latest single.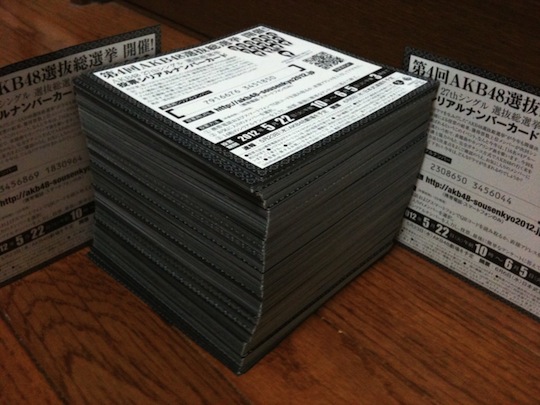 To get the voting form fans had to buy the song "Manatsu no Sounds Good!," which retails for ¥1,200 on Amazon Japan. That single apparently sold 1.61 million copies — but to how many people? How many other otaku were buying 1,770 copies (and thus forking out ten of thousands of dollars each!)?
The general election stirs up otaku fans — let's be honest, "mainstream" fans are not anywhere interested in proportion to the marketing machine that Dentsu musters for this group — and then translates into further sales in the next single featuring the winners.

Tags: AKB48, otaku
Category: Erotic Japan Blog
Other categories: Hands-on Reports, Product Releases
3 Comments »
RSS feed for comments on this post. TrackBack URI
The song ranked high on digital chart too like Recochoku. Those things don't have tickets so yeah the song is successful with the general public.

Do people actually stupid enough to think there's hundreds, thousands of fans buying over 1700 copies? Do they think the average AKB fans are that rich? please. People like that are a handful in a million. But people like to exaggerate it.

Comment by yuko — June 7, 2012 #

[...] claimed victory in the amount of hype and advertising cash their well-greased PR machine could turn their "election" campaign into — comes a scandal that proves just how controlled and fake they [...]

Pingback by Tokyo Kinky – Sex and Erotic in Japan » AKB48 Rino Sashihara banished for sex with otaku fan — June 16, 2012 #

[...] Of course, some of these images may be fake, but then again, we have been here before… [...]

Pingback by Tokyo Kinky – Sex and Erotic in Japan » AKB48 "elections" inspire crazy otaku bulk purchases (again!) — May 23, 2013 #
Leave a comment
Presented by Tokyo Kinky