Written by: Taro on September 4, 2011 at 8:06 am | In
Erotic Japan Blog
|
Discuss »
Top idols AKB48 have been promoting almost every product in Japan recently and prominent among the campaigns has been the one for travel agency H.I.S.
Though you sadly can't actually book a trip with any of the lovely ladies, you can go some of the way there with the latest addition to the marketing smorgasbord: An AKB48 augmented reality app for smartphones!
From August 22 to September 30, guys up and down the land are going to be occupied with oen thing only — the AKB48 Augmented Reality Stamp Rally. After downloading the free app, uou have to go to branches of H.I.S. and read the AR markers and collect 15 virtual AKB idols ostensibly "standing" in the store and posing for your viewing pleasure.
After you collect 5 stamps/idols you then get to watch special video on your phone.
There other incentives like winning a vacation and all that jazz, but we know the real reason for this kind of campaign. And it's slim and cute, with thin legs and a slender waist!
Some of the gals have also recently been doing sexy photo shoots for Peach John bras, proving that even petite idols can have nice busts if they choose the right lingerie.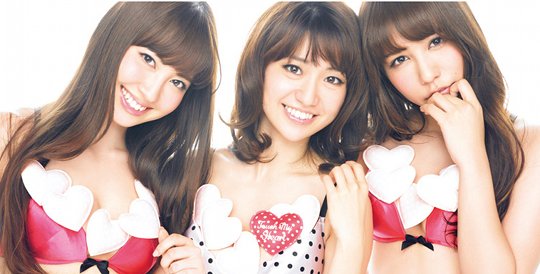 Tags: AKB48, idols, Virtual dating
Category: Erotic Japan Blog
Other categories: Hands-on Reports, Product Releases
No Comments yet »
RSS feed for comments on this post. TrackBack URI
Leave a comment
Presented by Tokyo Kinky