Written by: Taro on September 10, 2008 at 7:25 am | In
Product Releases
|
Discuss »
Is your girlfriend so afraid of your penis that she doesn't even want to touch it with her hands when putting a condom on you? Perhaps you're a sex worker who wants to maximize your time when every second counts? Well, perhaps the One Touch Condom is for you!
With a super easy slide strip that rolls it right on, you'll never have to touch a penis again before putting it in your mouth, manko, or ass. Plus, it shaves at least 3 seconds off of the old-fashioned roll-on condom time, so you'll save plenty of time for the next guy. Progress!
As the video shows, you can put a condom on six cocks in mere SECONDS! Don't let the passion of your gangbang get disrupted by fiddling with condoms. Now you can have all the dick you want with none of the hassle!
lol.

Tags: Condoms
Category: Product Releases
Other categories: Erotic Japan Blog, Hands-on Reports
Written by: Megumi on September 2, 2008 at 4:50 am | In
Product Releases
|
Discuss »
Is Japan known to make high-quality vibrators? Everything else with small parts, right? I recently came back from a trip to the U.S. with Taro, and of course we were looking in the local sex shops to see what people are using these days in America. I won't say the shop name, but I bought an expensive (about $120) vibrator (for ME only this time!). I brought it back to Japan and then…it was broken after three uses!!
I only say this because I still have the first Japanese vibrator I own, from like five years ago, and I don't think it'll ever break. KanojoToys doesn't carry that model in their shop since it's not made anymore, but they told me they have ordered a similar one in since American vibes aren't so great (or was I just unlucky?).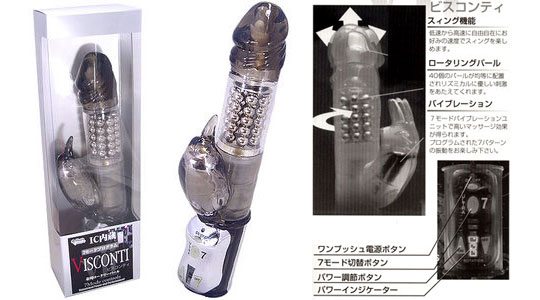 The Visconti has all kinds of swivels, beads, vibes, levels, and other great fun for time alone. It's similar to what I have in some ways, but is much more sexy from design I think. Mine doesn't have the "ULTRA" button either
Apparently the Visconti is also the NUMBER ONE vibe in Japan! Obviously the people have spoken (or moaned) as one. You can get yours online from KanojoToys.com.
Tags: japanese sex toys, Vibrators
Category: Product Releases
Other categories: Erotic Japan Blog, Hands-on Reports
Written by: Taro on September 2, 2008 at 2:32 am | In
Product Releases
|
Discuss »
These days, is there anything wrong with men enjoying anal pleasure, either alone or with a partner? Attitudes have changed dramatically in just a short time! In Japan, for example, prostate massage toys have become major sellers in the sex toys shops, and many adult films feature men getting fucked by women with various weapons of ass destruction. One of the latest is the Anal Phaser, a carefully crafted prostate massager that contains a vibe.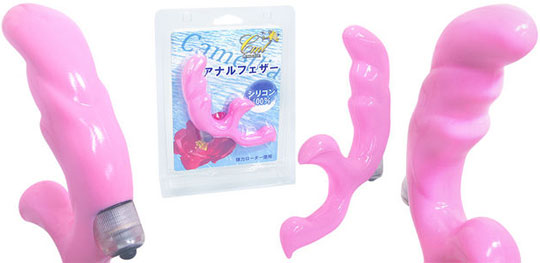 For a little more power, the Anal Insertion Direct keeps its battery pack off board, but makes up for the cord with even stronger vibration.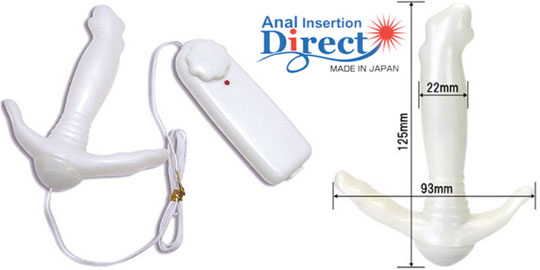 The myth is that anal sex for men is for "queers" or other nonsense. Even though these toys aren't for in/out play (they stay inside and massage you) there's still a remaining stigma about putting something in your ass. Men, are you really that hung up on anal sex? It's a Brave New World!

Tags: Anal, bisexual, gay, japanese sex toys, straight, Vibrators
Category: Product Releases
Other categories: Erotic Japan Blog, Hands-on Reports
Presented by Tokyo Kinky