Written by: Megumi on August 10, 2008 at 2:03 am | In
Product Releases
|
Discuss »
Japan is, of course, famous for being the home of cosplay. If you can't be in Japan for this month's Comiket , you can always bring some of it into your bedroom.
Since I started blogging about a year ago, we got lots and lots of requests to talk about the costumes in the KanojoToys online store. So, of course, we had to oblige!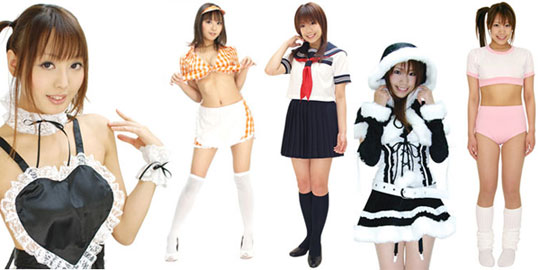 While there are a lot of sexy choices above, my personal favorite is the Sweet American Cafe Girl, just because its image rarely seen in Japan because of the big focus on maids, but I like to think of an American girl at a cafe serving cheeseburgers while wearing it. Fun, no?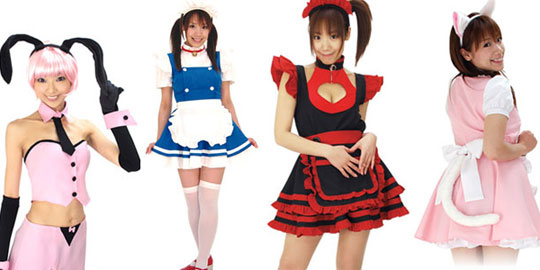 Japanese cosplayers are suckers for maids, but we also understand that they are NOT about sex but about being cute and playful. However, we're purely about sex here, so the Heartful Maid takes our recommendation in that category simply for its short skirt and cut-out top.
Well, now it's hard to pick more favorites, simply because there are so many and they're all so damn cute.
Check out KanojoToys's Cosplay / Bondage section for all of the above costumes and more.

Tags: costume, japanese cosplay, lingerie
Category: Product Releases
Other categories: Erotic Japan Blog, Hands-on Reports
Written by: Megumi on August 7, 2008 at 6:40 pm | In
Product Releases
|
Discuss »
OK, so this is right up my alley. Ah! Pun intended! Besides, the men already have their Flip Holes, right?
Japan is known for having lots of cute stuff, right? It's basically the capital of kawaii (cuteness) with all the pink, frills, and daintiness that comes with it. Why shouldn't that apply to sex toys? If anything, it should apply to them FIRST!
These vibes below embody everything about the trendy Shibuya 109 style of glitz and sexiness combined with the cute.
The Diamond Series all have sparkly diamonds on the end! They say that they're a girl's best friend, but I guess they're just an ornament for a girl's new best friend? There are anal, vaginal, and G-Spot versions, all studded with gems on the handles and packed full of vibrating fun.
Now, Hot Love are a little more on the demure cute side, but when they're on their sides they look like doves, so they score a point with me.

Tags: japanese sex toys, Vibrators
Category: Product Releases
Other categories: Erotic Japan Blog, Hands-on Reports
Presented by Tokyo Kinky