Written by: Taro on September 16, 2007 at 10:32 pm | In
Erotic Japan Blog
|
Discuss »
We saw this at the Adult Treasure Expo, but have been waiting to post it until we saw it online. Finally we did! The Gekishin Mouse-kun is a vibrator shaped like a mouse, evidently for geeky pervs everywhere!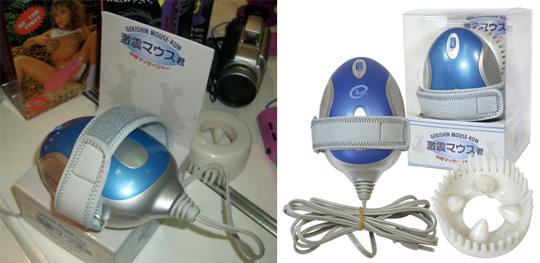 It has a strong vibrator (with an attachment for clitoral stimulation), but also built-in heat! Now you can take the tool you use all day to find fun porn and toys, and use it to please someone else for a change. Mmm…I think we need to equip our office…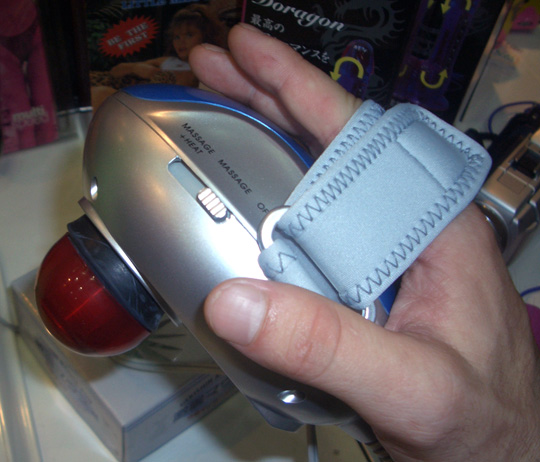 Category: Erotic Japan Blog
Other categories: Hands-on Reports, Product Releases
Written by: Megumi on September 15, 2007 at 10:17 pm | In
Erotic Japan Blog
|
Discuss »
I saw this in a shop the other day and couldn't resist. It was a normal shop, not a sex one!! The F-Cup Cookie claim to "make your top swell" and increase firmness. Being an average Japanese girl, this is something I think I need!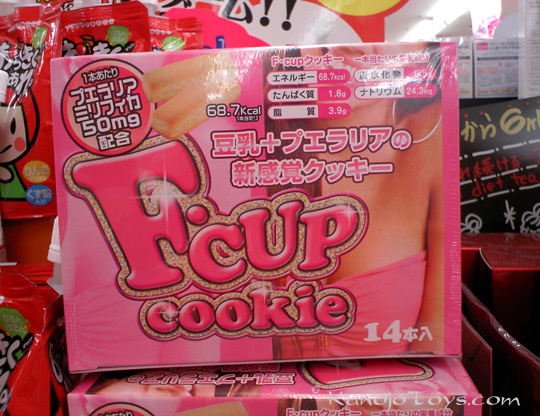 I guess if you eat enough of any kind of cookie your breasts will get bigger…along with everything else! I bought a box, and I promised Taro that if my breasts get bigger he can see them first

Category: Erotic Japan Blog
Other categories: Hands-on Reports, Product Releases
Presented by Tokyo Kinky