Written by: Taro on July 28, 2007 at 7:29 am | In
Erotic Japan Blog
|
Discuss (7) »
Yesterday we tagged along as the KanojoToys team headed out to the Makuhari Messe in Chiba to take part in the first annual Adult Treasure Expo, the biggest adult toys and video showcase ever to hit Japan. Since yesterday was pretty much a buyer/press day we were able to beat the crowds, but we missed out on some of the big stuff going on this weekend. No worries though, as we took a lot of pictures and video, and got to meet some of our favorite actresses and toy makers…and meet our favorite Candy Girl love dolls up close!
Below is the video we made from the show, highlighting some of our current and future products. We're particularly excited about the new Tenga Flip Hole, Virtual Stick/Hole, and a bunch of amazing onaholes and onacups that we'll have in the shop very soon. Check out the new Ona Max Revolution masturbation machine too. It's incredible.
All in all, it was an amazing time. Enjoy the video from the KanojoToys team!

Category: Erotic Japan Blog
Other categories: Hands-on Reports, Product Releases
Written by: Taro on July 28, 2007 at 4:51 am | In
Erotic Japan Blog
|
Discuss (7) »
This is big.
After a couple of years of amazing success with the Tenga Flip Hole, their most stylish item yet, and the most easy to clean male masturbator out there.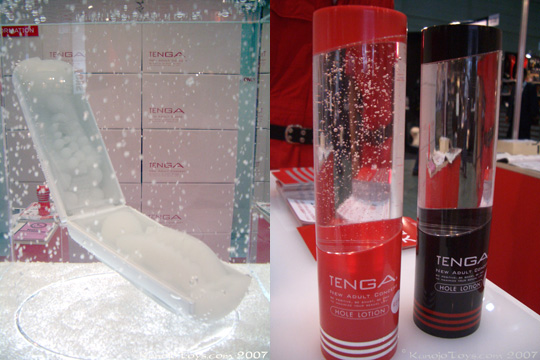 The Flip Hole takes the original Tenga's style and quality, but enhances the inside with more durable material. The best part is the "flip" action, which makes it so you never have to put your hand inside an onahole to clean it ever again! It actually opens directly in half, making it easy to wash out.
At the first annual Adult Treasure Expo in Tokyo we talked to Matsumoto-san, the founder and creator of Tenga (pictured below). He said that the Flip Hole will be released sometime this fall, along with special Hole Lotion.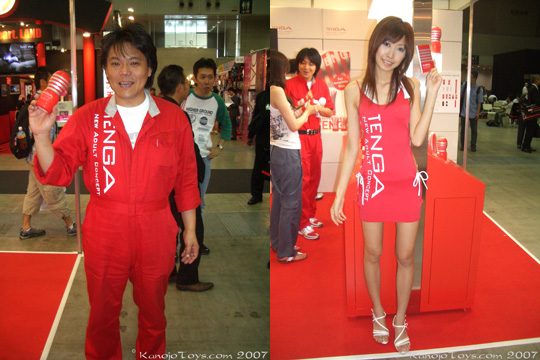 Of course, the original Tengas still have more variety, but the Flip Hole will be a great option for those who want a longer-lasting solution. I'd like to get one of those cool jumpsuits too.
***UPDATE: Tenga Flip Holes are in the KanojoToys online store!***

Tags: fliphole, tenga
Category: Erotic Japan Blog
Other categories: Hands-on Reports, Product Releases
Written by: Taro on July 5, 2007 at 6:19 am | In
Erotic Japan Blog
|
Discuss (1) »
First there was the Robotech Thruster, but then the ladies felt left out of the fun. Now the women can get in on the action as well with the Robotech Reviber from Tokyo Wins, a compact and versatile way to get hard-hitting action that's totally at your control. It operates exactly like the Thruster, with manual speed controls and easy mounting. It can also be pointed straight up for creative positions, and from what we can tell, you should be able to use third-party dildos in the mount to fit your tastes. We see this as being great for both women and men who like penetration on their own terms and want something a bit cheaper than the amazing Ona Max Revolution.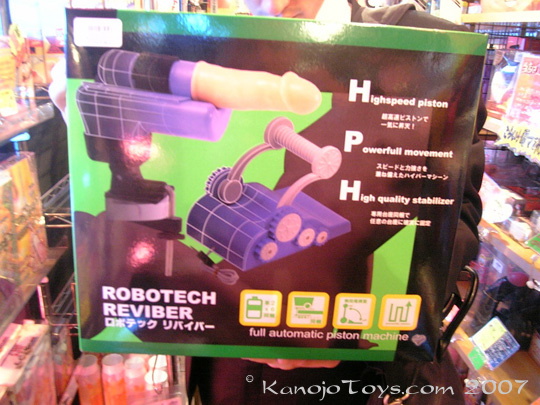 Mostly, we're looking forward to teaming it up with the Robotech Thruster for some hot Robo-on-Robo action.


Category: Erotic Japan Blog
Other categories: Hands-on Reports, Product Releases
Presented by Tokyo Kinky